I know I promised my next post would be all about apocalyptic fashion, but Pinterest refuses to send me an invite. I love the functionality of pinboards, so I've been trying to get on it since last Thursday. I finally tried a different email address, and hopefully they'll actually let me create an account. That, however, is NOT my rant of the day. (Skip to the bottom for the DIY stuff)
THIS IS.
No, no, not the DIY awesomeness brought to us by Katy of
Dirty Hems
. No, indeed. Gather 'round and let me tell you a story...
Today I was cruising BurdaStyle's old
DIY blog posts
hoping for inspiration to strike. I've been in such a crafting funk, which is why I'm really looking forward to the
Apocalyptic Fashion Swap
. I thought the Vena Cava safety pin shirt featured in
Safety Pin Chic
was just sooooo cool, I looked up the relevant collection from Vena Cava (
SS 2010
).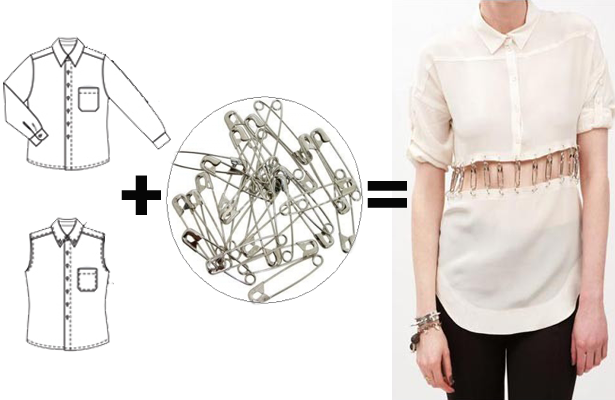 Then, after Googling a bit, I kept seeing references to Katy's Vena Cava knock-off ALL OVER THE PLACE. *SWOON* Gorgeous, and just as good as the original!
BUT.
I couldn't find the actual post by Katy herself. Wanna know why??? Because Katy's blog is a BASTARD. Quite possibly Katy doesn't realize just what a bastard it is. Dirty Hems dot net is a bastard because after clicking any one of oh, 5 or 6 links from various fashion blogs in an attempt to see the original post, the darn thing STARTS to load the proper page (you can see it in the address bar), but then it redirects you to the front page. Oh, yes, it REDIRECTS YOU.
The entire reason I wanted to find the original post was a) to see if she discussed her methodology, and b) so that I could re-share it here. It would not surprise me if the link I provided to the proper post simply sent you to the Dirty Hems homepage. I even tested it by copying from one tab and pasting into a new tab, and it worked, but I have little faith in it.
If Binary Catfish dot blogger dot com ever becomes a bastard, I REALLY hope someone will post about it, because I totally Google myself.
So if you want to read Katy's posts and don't want to spend a half hour tearing your hair out, go to the Dirty Hems archive for September 2009, then find the elusive NEXT button at the bottom and hit it. The post I lifted this photo from is dated September 14, 2009. Hit NEXT again to see some construction info and mostly-finished pix posted on September 12, 2009.
Aaaaanyway, while we're here, some more safety pin DIY:
Keep crafty!