I think I'm going to start a series to keep me posting more often. Here's some goodies I LOVE and can totally make so I can stop drooling and start strutting :D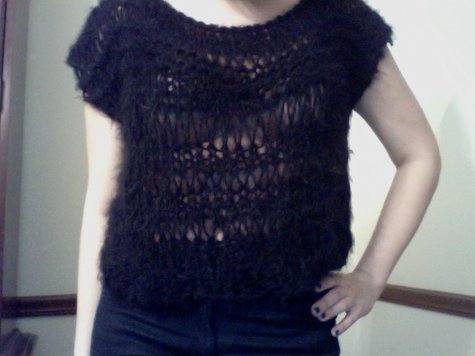 Up until I saw it, I could hardly knit. This sweater caused a flurry of
Ravelry
and Google searching. I finally settled on a
Drops Design by Garn Studio
pattern to base it on (
Garn Studio page
,
Ravelry page
).
I frogged a half dozen times, but I finally got it going! I'm using a charcoal mohair blend and a smokey acrylic.
I'm taking a break from it, but the front panel is almost finished! I cast on 30 with 12mm needles, working a pattern of 3 stockinette and one drop stitch, with the 3rd row of stockinette for the colour change.
Everyone who's anyone knows that this is the year of sheer and lace! In that vein, there have been a pazillion iterations of sheer and lace skirts with a short slip built in (
or not
)
That's $46 USD for what is basically a yard of polyester chiffon. In my opinion, it IS a fair price if it were hand-made with decent stitching, but not for a piece of industrially-batched crap that may or may not fall apart in the wash even set to the delicates cycle. I plan to follow in the footsteps of
iamrotkappchen
and
Georgia Delaney
and make my own for waaaay less AND with much higher quality standards! (click the pix to go to the BurdaStyle project pages)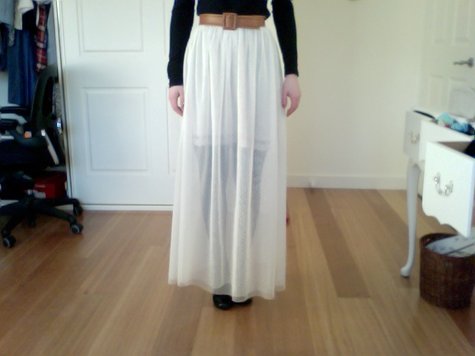 I used to have sheer cream curtains, darnit... I don't know if I left them up at a place I rented or if I packed them away somewhere. They WERE quite ugly, but would be perfect for THIS! AGH! Maybe I'll luck out and find sheer curtains at a thrift store, but so far, nada...
Happy Spring, everyone!
.